Print sourcing is a vital part of the production process at YEVU. The time and care taken to curate the prints we use in each range sets us apart, and is a unique tribute to the stories, colours and spirit of West Africa.

YEVU employs a small team of procurement officers that work full time to sift through the chaos of the wholesale vendors in Central Accra and pick out hottest prints - the prints that are going to turn heads (your heads!). We wanted to share some aspects of this process with you, and take you on a little journey to the heart of Central Accra - Makola Market. This is where the magic happens.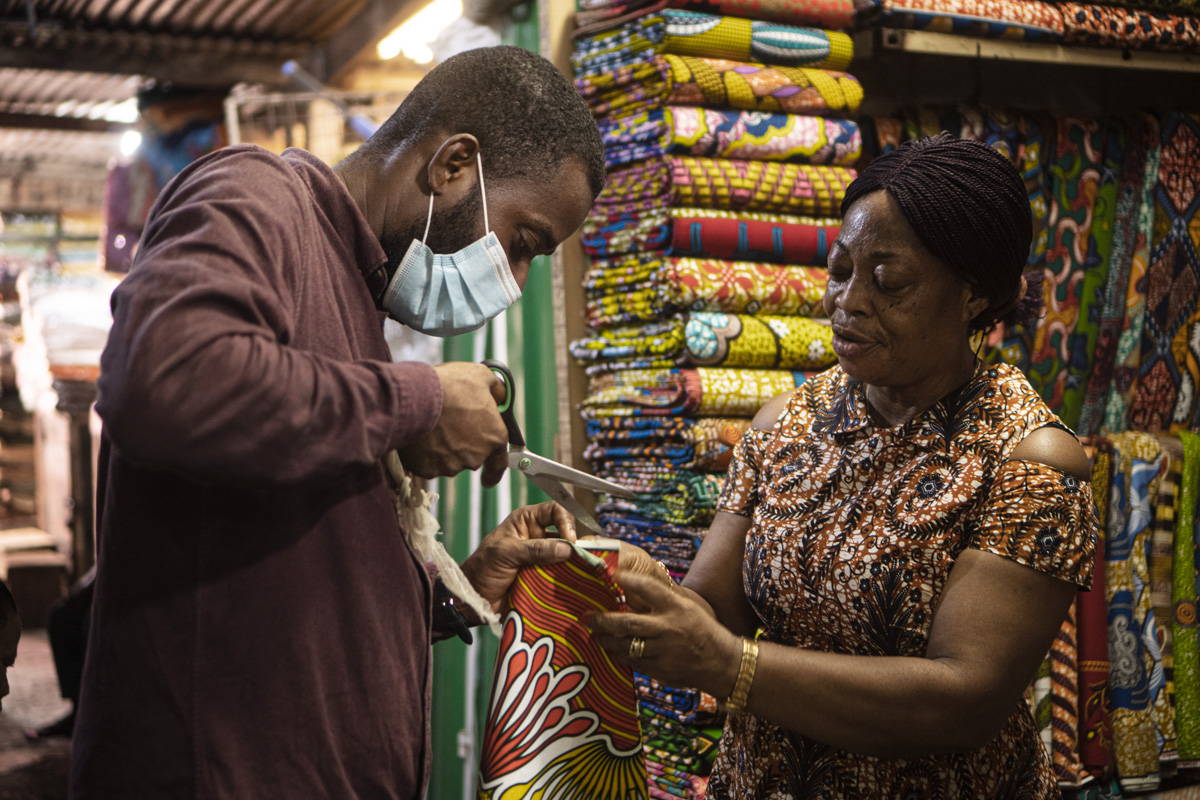 George Nassah, our Head of Procurement, visits these wholesale markets (and occasionally central market places in Togo, the country next to Ghana) almost daily. He meets with our regular textile vendors - many of whom we have established crucial working relationships over the years. We return to these vendors time and time again, as they have a keen eye for YEVU prints and they'll ensure they have a healthy supply of bloody drop-dead-gorgeous prints in the larger quantities needed to produce a range.

The vast majority (if not all) of these vendors are female owned - many of them running textile businesses for decades before hanging them over to their adult children to continue to run. It's no surprise - women make up the majority of Accra's informal workers, who account for more than 80 percent of the city's working population. They dominate small trade and retail, contributing to Ghana's ranking as one of the countries with the highest proportion – at 46 percent – of female business owners worldwide, according to a 2018 index of women entrepreneurs.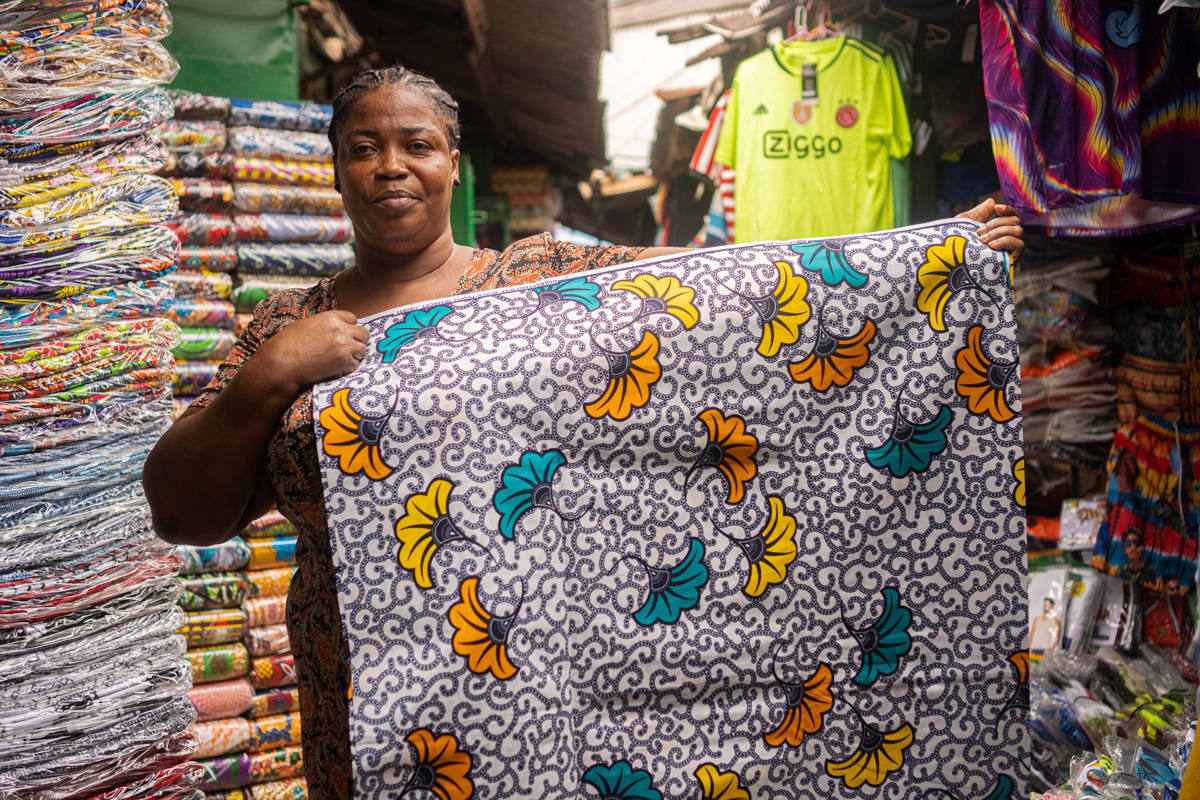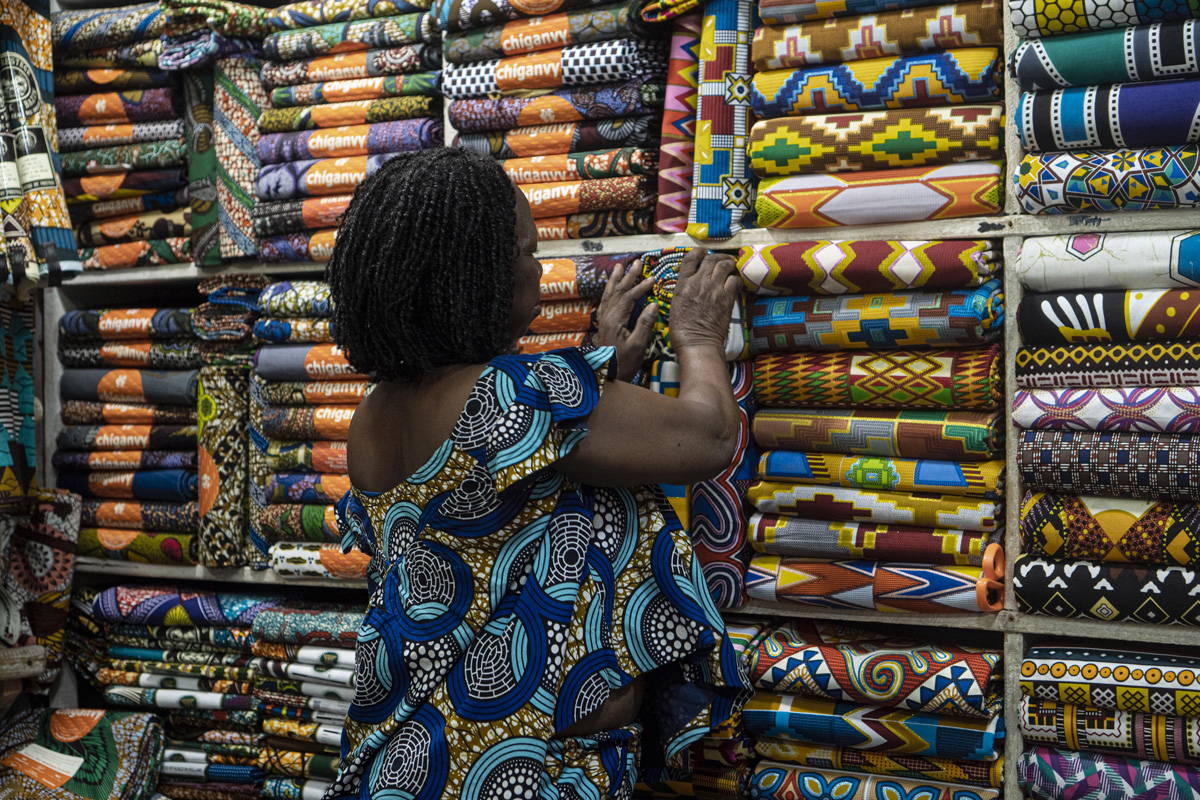 We are delighted to work with women owned businesses throughout our supply chain (we already employ almost 80% women in house in full time, fair and dignified work!). The income generated through our business with these vendors is regular and consistent, supporting growth and employment and helps them ride out uncertain times, like downturns caused by Covid-19 inflation and recessions. In turn, they keep our business afloat by providing us with consistent designs, top quality and high quantity prints!


We're proud to introduce to you to some of these women; Christina Arthur, Mrs. Sophia Onyinah, Rejoice Abavoh and Auntie Habibah - four of our main textile suppliers. Welcome to the origin story of your YEVU!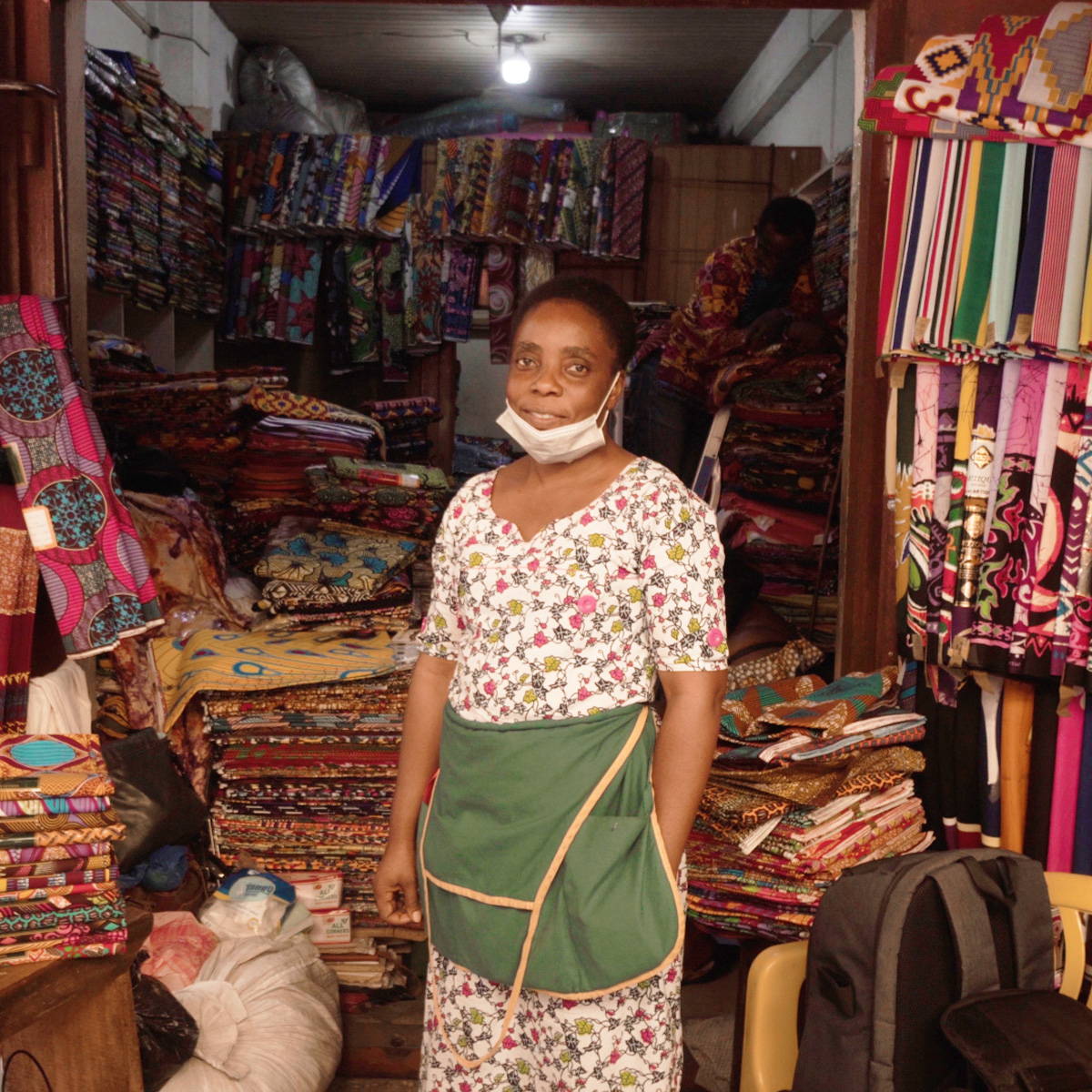 Christina Arthur was handed down the textile business by her mother, who has been working in the business for over 45yrs. Christina Arthur has been one of YEVU's long-time textile suppliers, for something between 5-6yrs now. She is married with three children, one boy and two girls, who she is able to support through her business.

Long-time YEVU Textile Supplier in Makola Market, Accra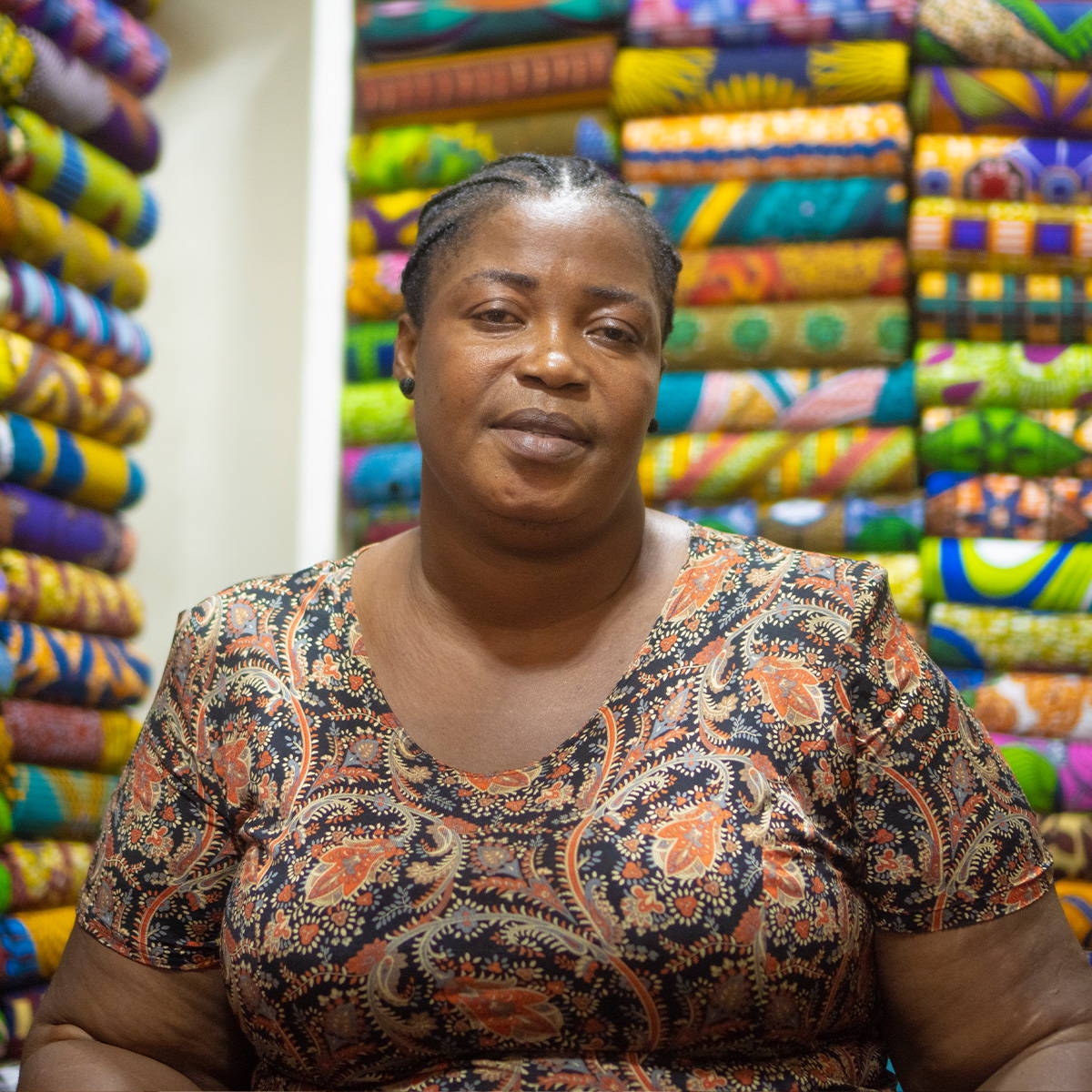 Rejoice Abavoh has been running her own business for 27yrs now, that supports her two children and husband. She started out selling from a shipping container, before being able to rent her shop in the Makola Market as her business increased. she has been working with YEVU for 2-3yrs now and is always quick to suggest fabrics that become YEVU favourites like Bubblegum.

Long-time YEVU textile supplier in Makola Market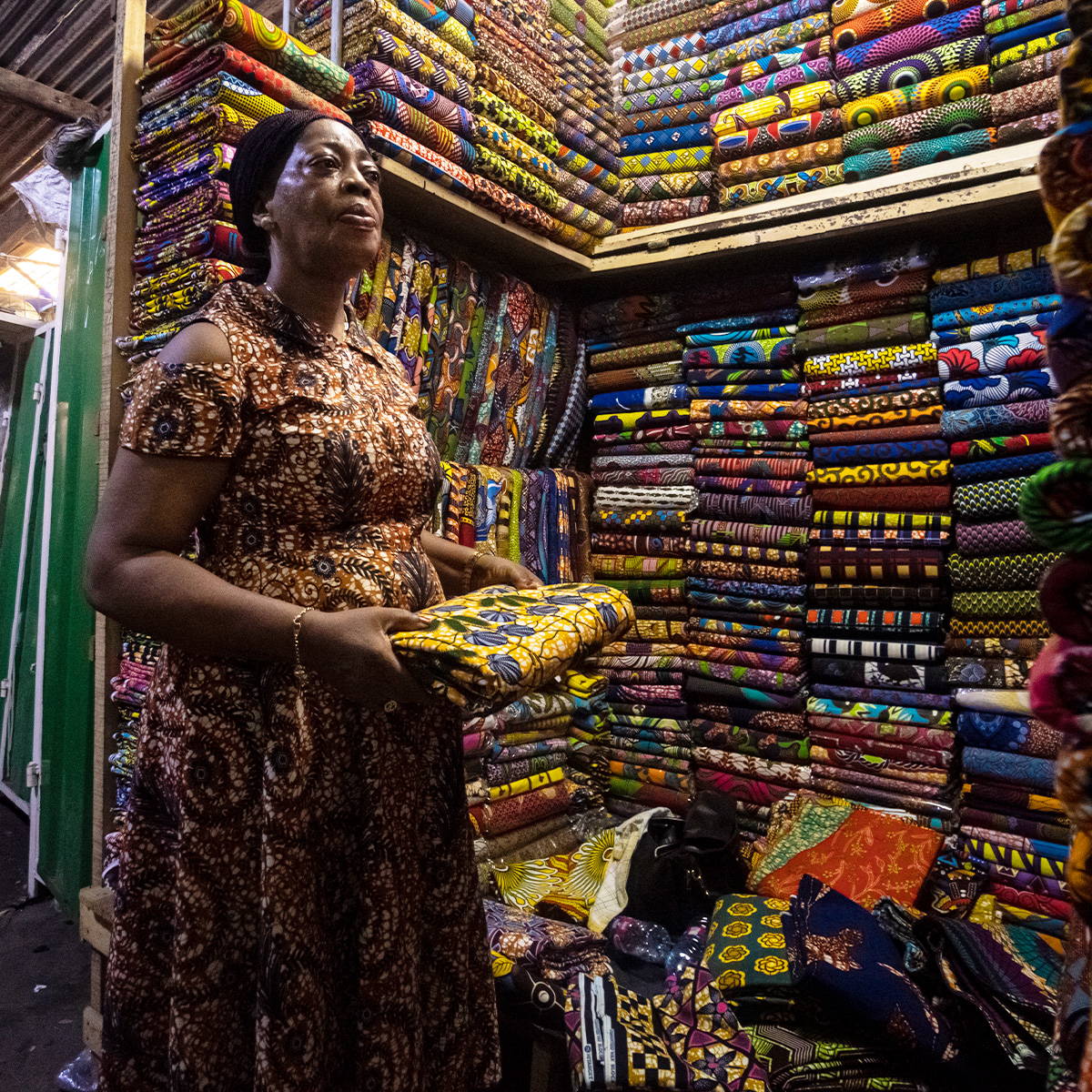 Mrs Sophia Onyinah has been selling textile in the Makola Market for 22yrs now. She has sold us 10 beautiful prints in her time working with us. A lot of people purchase fabric on credit, but sometimes do not return to pay their bills. So she is owed a lot of money. She's always pleased to do business with us because we don't run away with the goods!

Long-time YEVU textile supplier in Makola Market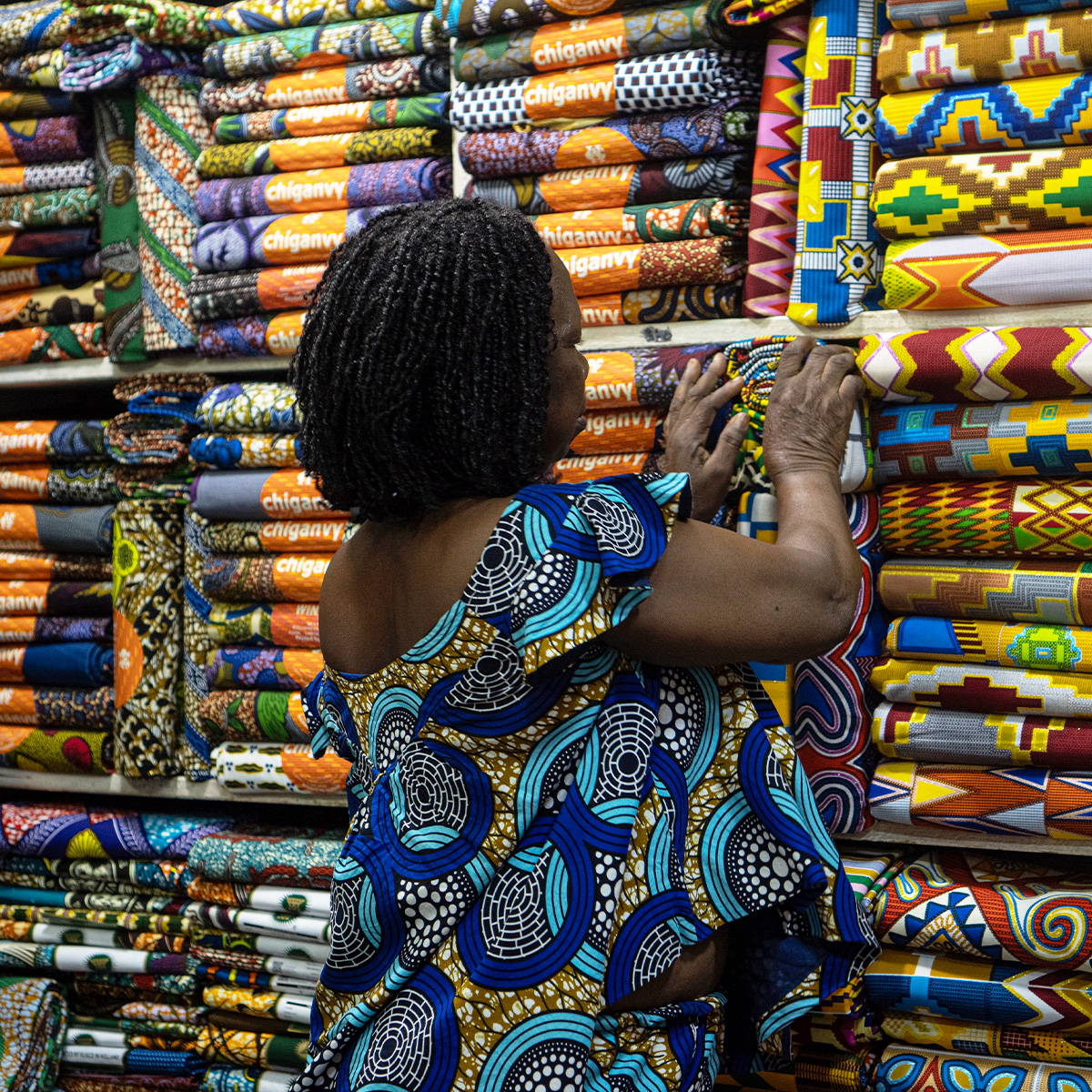 Auntie Habibah has 4-5 workers employed to manage and sell for her through her textile business, ABISCO Enterprise, started in 2001 (we meet her nephew, Adofo Assan, in the video, who speaks on her behalf). As well as these workers, she takes care of 10-20 more people through her company.

Auntie Habibah / ABISCO Enterprises

Long-time YEVU textile supplier in Makola Market

Here are some important FAQ's about wax prints, in case you were wondering.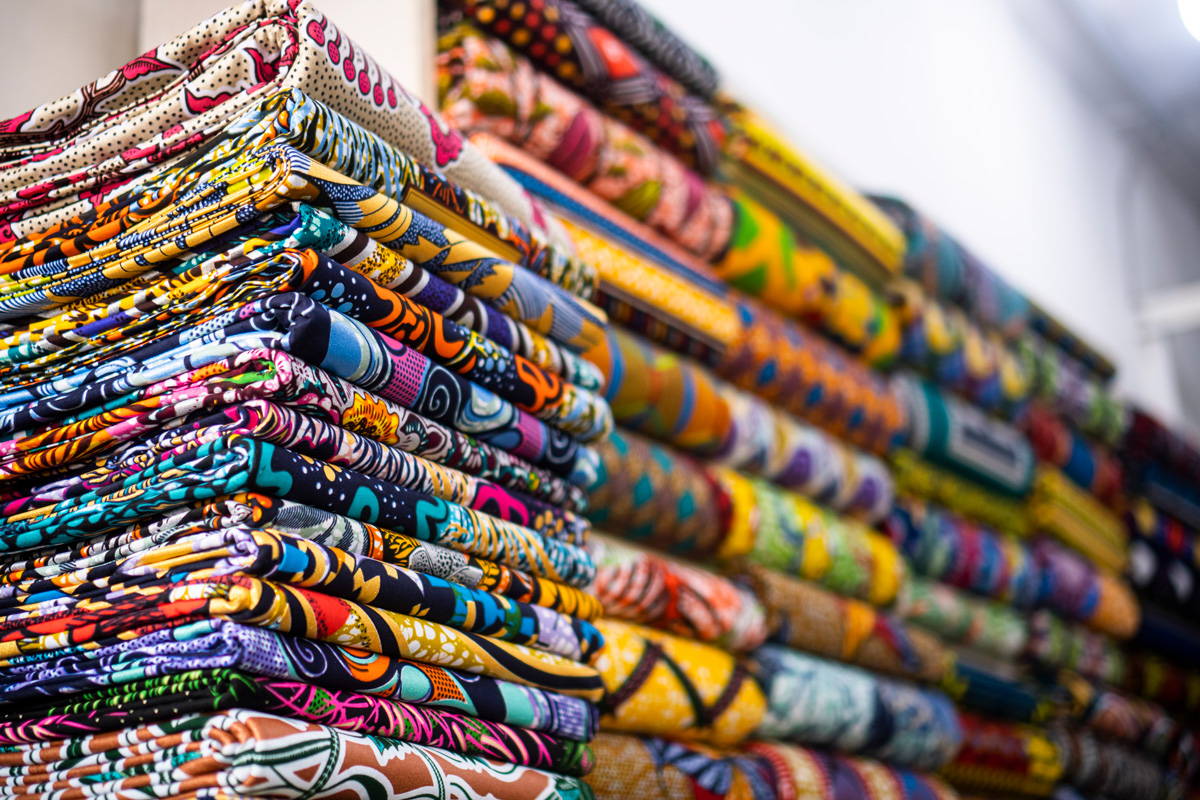 It's important to acknowledge where these prints come from and how they came to be a staple of the West African fashion and textile sector, enabling businesses like YEVU Clothing (owned and operated across Ghana and Australia) to come to life in Ghana - procuring, operating, sharing and celebrating these textiles through clothing produced in Ghana and sold to a global customer base.

Are the prints made in Ghana?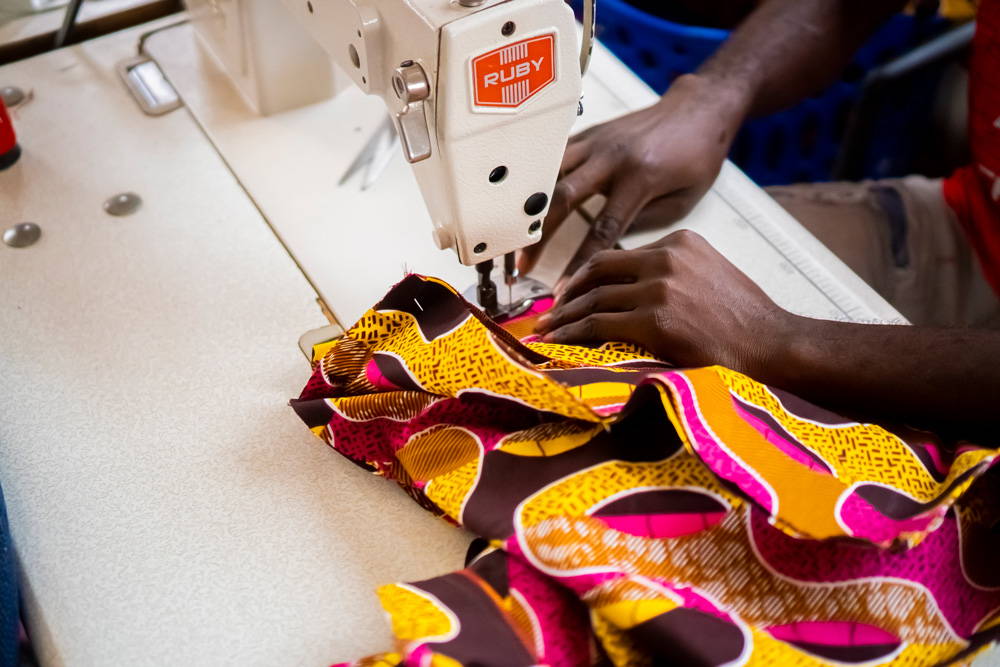 Firstly, although all the prints we use at YEVU are sourced in Ghana, and all our clothes are cut, sewn and assembled in Ghana, not all wax prints sold in the wholesale marketplaces are made in Ghana. Imported wax prints make up a huge portion of the textiles sold here - many coming from China, India and Bangladesh.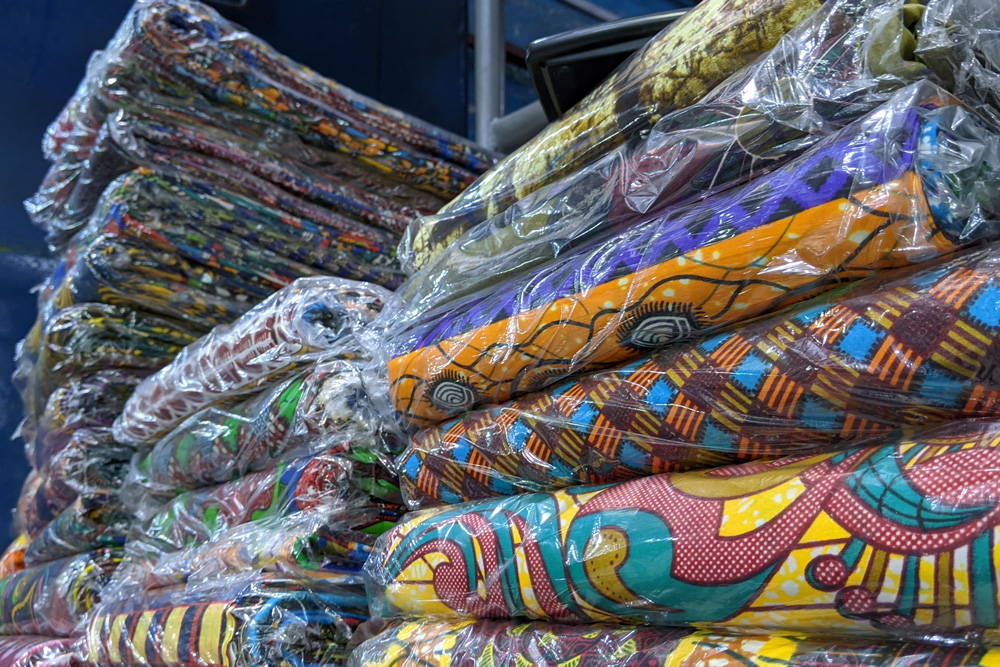 Ghana was once a big manufacturer of these textiles - with factories across the country that employed up to 30,000 people and contributed significantly to Ghana's GDP,, but with economic policy changing throughout the 80's and 90's encouraging trade liberalisation, the country became more reliant on trade and imports. The Ghanaian government reduced their support to local textile manufacturers and it became very difficult for them to compete with the technologies and efficiencies of imported fabrics, which are much less expensive to make and make the sale price much lower.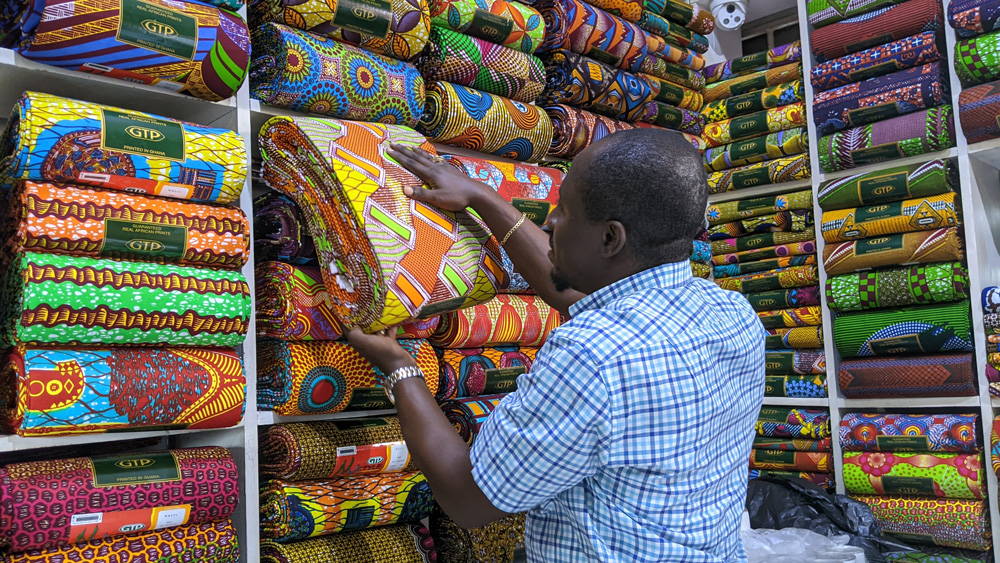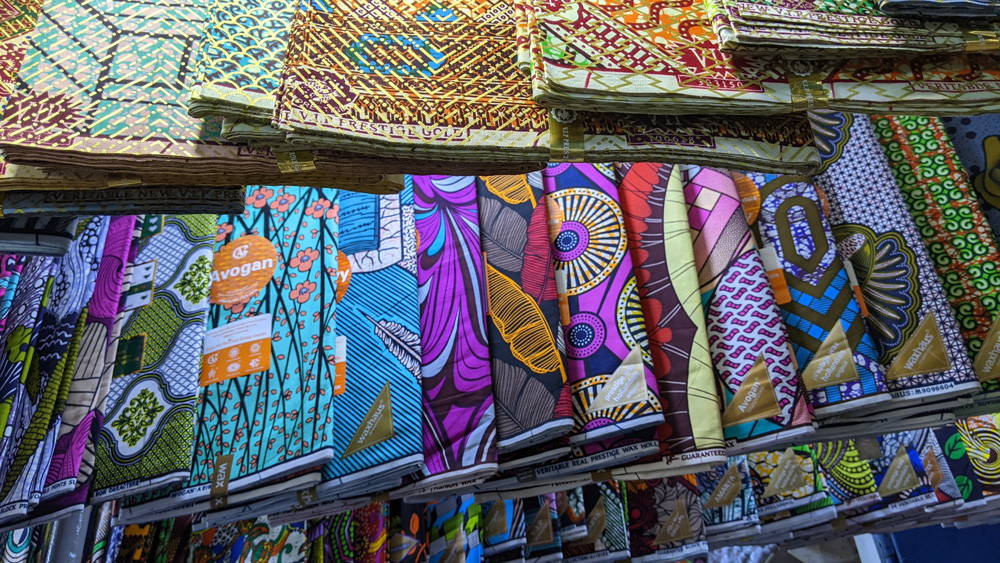 YEVU aims to procure majority locally manufactured textiles, through textile houses including GTP, ATL and Printex. This is not always possible however, as we are at the mercy of supply of local textile houses, price fluctuations and quantity availability. We supplement these locally made textiles in our ranges with imported textiles that are of high quality and integrity - it has become very difficult to procure only locally made given that the market is flooded with imported fabrics. Attempts to buy directly from textile manufacturers in the past has been challenging, but we continue to persevere!

What are wax prints and where do they come from?

Often called Dutch or 'African' Wax print, the brightly coloured and patterned fabrics are industrially produced following a resist-dye technique inspired by the Indonesian art of batik. Both methods use wax and dye to form designs on cotton cloth.

The story of wax printing in Africa began on the Gold Coast (modern day Ghana) where Indonesian batiks were being imported from the mid-19th century from Holland, where they were first mass produced. The product became popular on the Gold Coast, and spread over West Africa into Central Africa to become a distinctive African cultural feature.

To be a commercial success in Africa, the prints needed to reflect African tastes, aesthetics, proverbs, culture and patronage. Now the fabric is prolific across West Africa and is an important typical expression of African culture and national identity.

Read more about this history here - "The Hidden Meanings Behind West Africa's Wax Prints."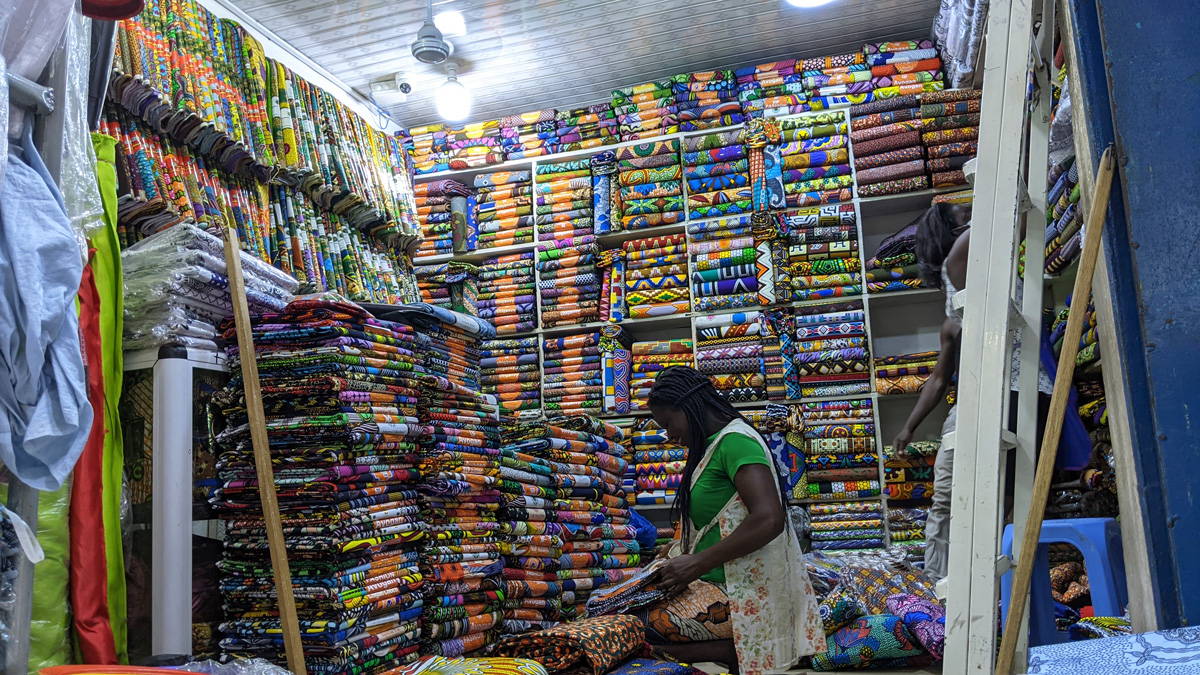 Is it appropriate for me to wear these prints if I'm white?

There's a fine line between cultural appropriation and cultural appreciation, and it is neither straight nor clear. Borrowing from other cultures becomes problematic when historical context and cultural sensitivities are ignored. Our fabrics are sourced directly from (mostly) female vendors in the marketplaces of Ghana and Togo, and each garment is a unique tribute to the stories, colours and spirit of West Africa through these prints. Our clothes are made responsibly, under fair working conditions with the aim of economically empowering the women working for the YEVU foundation.
Asking who profits is one way to tell if appropriation has crossed a line. At the end of the day, it is up to you to only wear if you feel comfortable, but know that when you are wearing prints from YEVU - you are supporting the people and culture who have made them, and giving them proper homage and respect to their culture and work.
Read more about cultural appropration vs. appreciation in this great article from the
ABC here
.
Will you restock this (insert favourite) print?
If you're a long time follower of YEVU Clothing, you'll remember the prawn print - a repeated motif of a little yellow prawn printed all over a hot pink backdrop. This was a potentially risky investment for our team that paid off - who could've known that hot pink prawns would be so popular!

The bitter sweet nature of procuring wholesale in Ghana is that one minute we can buy as much of one print as we want, and the next, it's sold out, gone and never to be reprinted again. The prawn print was fated never to return to the shelves of YEVU Clothing.

We cannot predict which prints will be available in the next season - it's a gamble so you're best to purchase your fave YEVU print when you have the chance to!