A socially responsible label, made in Ghana
We are a business with purpose. We are proudly Ghanaian made. And we believe in the transformative impact of economically empowered women.

We also make kick-ass clothing in mind blowing prints.

Since inception, YEVU's aim has been to give women in Ghana's informal sector jobs, a better and more sustainable income, and ultimately, access to improved livelihoods for her family and immediate community.
Over the years, our journey has been marked by many challenges, but our stamina and resilience stems from our powerhouse team of women in Ghana. These women have always been at the core of what we do and why we do it. Our relationships have been built over years of collective and transparent decision making, shared learning, and mutual goal setting.
So we have decided to tell this story [the no bullshit version] as it has defined how and why we operate today. We want you to know exactly what you're buying, how it came to be, and why it came to be.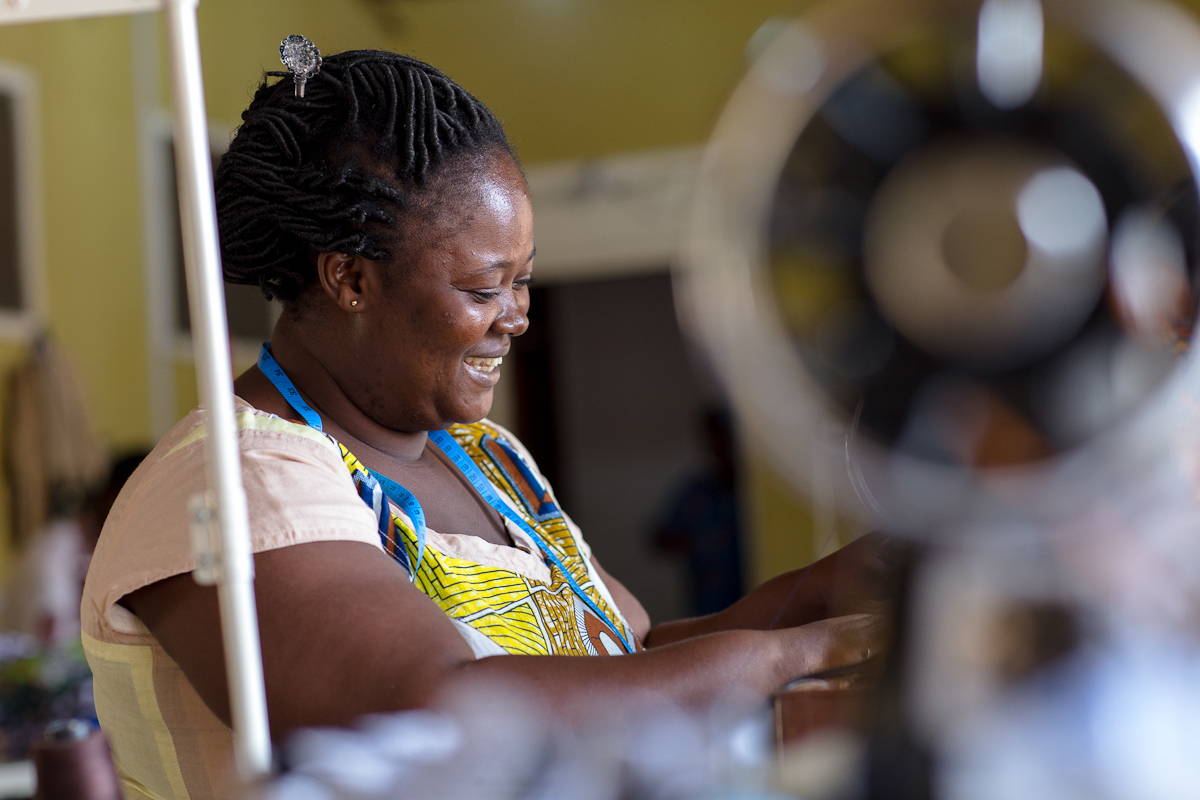 Every idea starts with a problem. So here is the problem.
Women are the backbone of a community, an economy, a country. They are entrepreneurs, mothers, sisters, teachers and community leaders. In Ghana, it's women that dominate the informal sector, owning and operating the vast majority of little business that scatter the roads, markets and remote communities. They sell you rice, they clean your houses, they make your lunch, they repair your clothes, they cut your hair, they do the heavy lifting, literally. Yet, working in this informal sector is a vulnerable place to be - it's characterised by underemployment, unsafe working conditions, precarious work relationships, low wages and no safety net. The majority of those working in the informal sector are living with high income insecurity, and the majority of those people are women. A whopping 80% of all economic activity in Ghana is in the informal sector, and women make up 70% of that sector. You do the math.
To make the situation that much more difficult, women in Ghana have less access to capital and savings mechanisms, limiting their ability to invest in their businesses and expand their earning capabilities. So they own and operate all these businesses, but can't grow them. In a nutshell, when it comes to jobs, income, opportunity and choice, women in Ghana are left behind. Which is kind of ironic, considering that women are the ones most likely to spend whatever income they do make on the health and education of their families and immediate communities. They are the ones that will likely spend their first bulk payment on sending their daughter to school.
Transparency is the best policy, so that's what we'll be serving up. YEVU is a tiny tiny drop in a gigantic ocean - we are not alleviating systemic social problems, we'll leave that to the big guys.
What we are is a business with purpose. Our purpose is to change the circumstances for a group of women in Ghana that were once amongst the most vulnerable, through creating jobs with dignity, income that is sustainable and fair, and skills that can contribute to long term financial independence. Big picture, we want to create opportunities for the daughters of these women, because, as research has shown us, if you educate a girl then you educate a whole nation.
We have formed relationships; created trust; built and facilitated physical workshops from the ground up in Accra; and developed and nurtured skills. Now, 4 years on we have consolidated an ironclad team of formalised female workers under the YEVU name. And they are running the show. They are financially independent, empowered, confident, and making choices for themselves and their families. And they are also making damn cool clothes that make people feel genuinely happy.
But are we actually making a difference? Let's take a look at some data.
Some nerd info: This data has been collected through a few different methods. We've used existing research on living wages, our own business data on wages and production, and surveys and interviews with past and current employees in Ghana. The interviews and survey aim to capture data on whether or not there has been some personal and relational change for the women that we work with in Ghana, which can hopefully tell us how empowered each woman feels as a result of sustainable and fair employment. We used Oxfam's Framework for Measuring Women's Empowerment to guide our impact evaluation. Nerd out friends.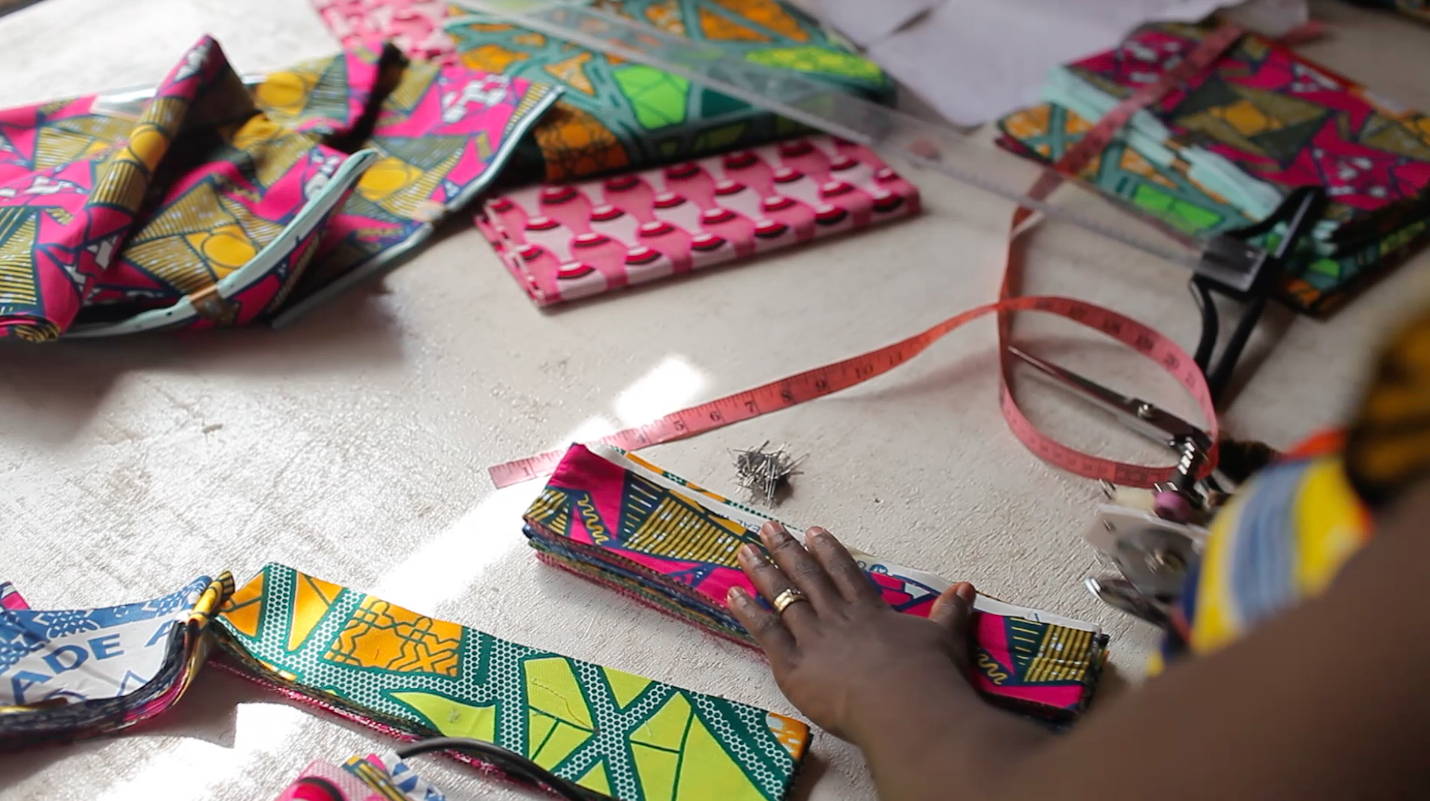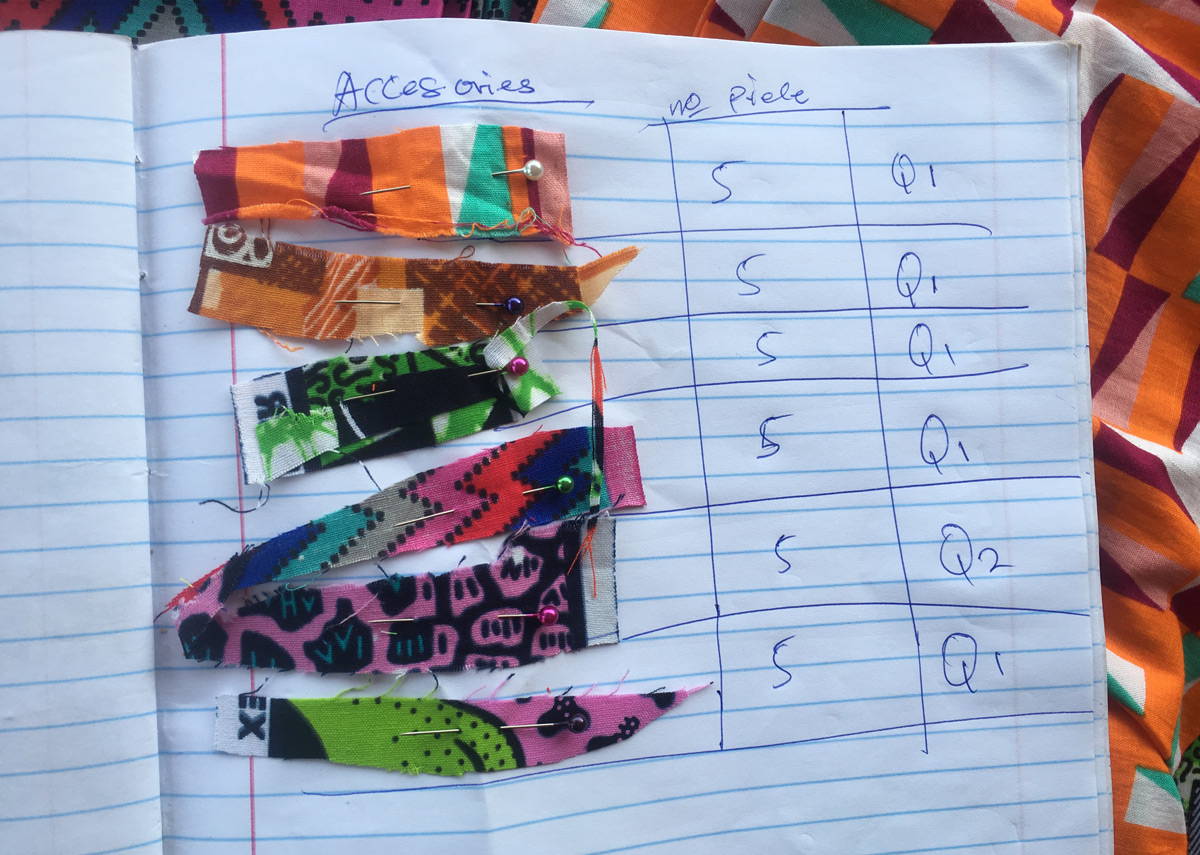 Initially, our design work was carried out in Australia by our network of designers and pattern makers. Now, we can proudly say that the majority of this design process is carried out with our team in our Accra workshop thanks to the ongoing training and capacity building between our Australian designers and our makers on the ground in Ghana. Our philosophy around design is to keep it simple and let the print do the talking, so we often revisit YEVU fave classic cuts, introducing only a handful of new considered designs in each range.
We source all our prints from the wholesale market places of Accra and Kumasi (Ghana's biggest cities), and Lome in Togo. The markets offer the absolute best choice of locally designed prints, and although it's a logistical nightmare, there's nothing like finding the ultimate print hiding under tons of fabric in the back alleyways of the marketplace. Another bonus is that all of these tiny micro-enterprises are female owned (we are yet to meet one owned by a man!) yay! The tricky part of the process is finding each killer print in the quantities needed meet our production targets for each range – we need somewhere between 300 and 400 yards in each print. These prints are scattered over miles of marketplaces, so we literally send a satellite team of people out to search high and low for a specific print, which can take weeks. We REALLY work for these amazing locally designed prints. Thanks to the local textile houses, ATL, GTP, GTMC, Printex and Woodin for making these fabrics for us to buy.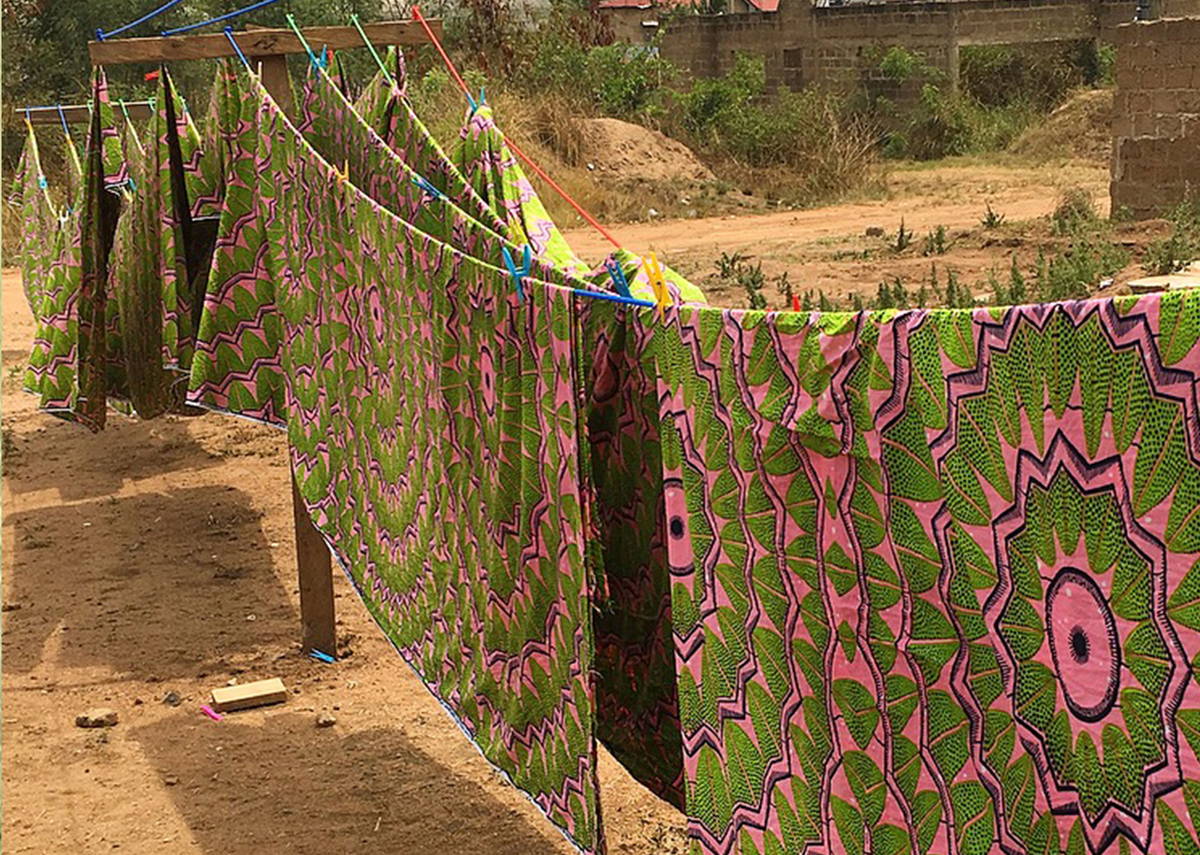 After sourcing prints (generally carried out by Anna), our driver Kennedy fights chronic traffic to transport these massive quantities to our Accra workshop. Every yard of fabric is tested for colour bleed, pre-washed by hand and hung to dry in the hot Ghanaian sun. Production Manager Felicia distributes all the fabric to our team of makers, and every single YEVU item is meticulously made in our Accra workshop. We believe in in-house production and outsource almost none of what we sell. Everything from pattern making and training to quality control is carried out by our team on site in our central hub/studio that we have built in Amasoman. After several months of production on each range, a thorough quality control is carried out by Felicia and team, and thousands of units are ironed, labelled and boxed up, ready to be sent to our studio in Sydney, Australia.

We aim to release four ranges per year, which have absolutely no correlation with fashion seasonality. Our garms are for anywhere, anytime fun. We are strictly retail - we have never wholesaled and don't plan to start, because we love selling directly to you through this fancy website and through our bi-annual pop up extravaganzas! If you're lucky enough to be in the right city at the right time, then you may get to experience one of our pop up stores in the warmer months. Thus far we've got a whopping 10 pop ups under our belt, having appeared in Melbourne, London and Sydney.
Felicia Adwubi
Head of Production
Philomena Akaso
Lead Seamstress
Vivien Nyavi
Lead Seamstress
Lydia Akplehy
Lead Seamstress
Josephine Nartey
Lead Seamstress
Stephen Zikpikpor
Lead Tailor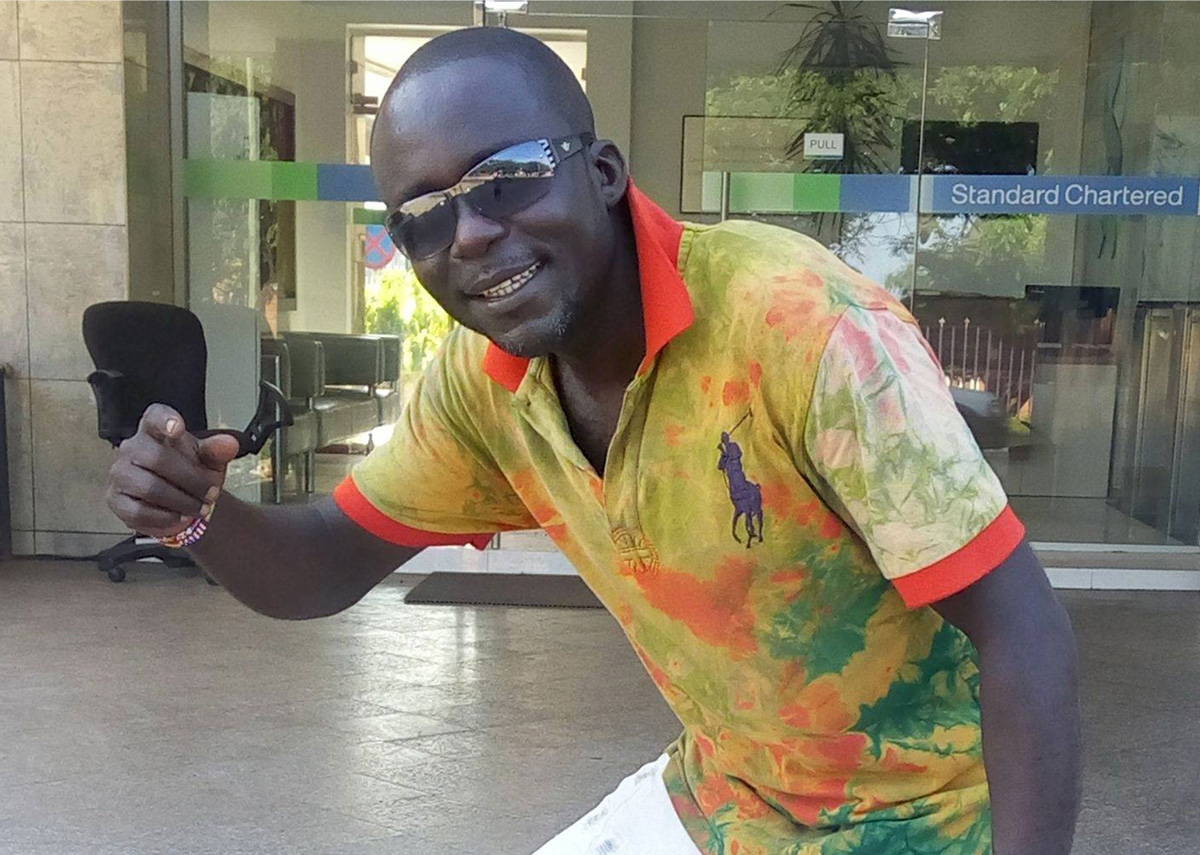 Obeng Skido
Logistics Coordinator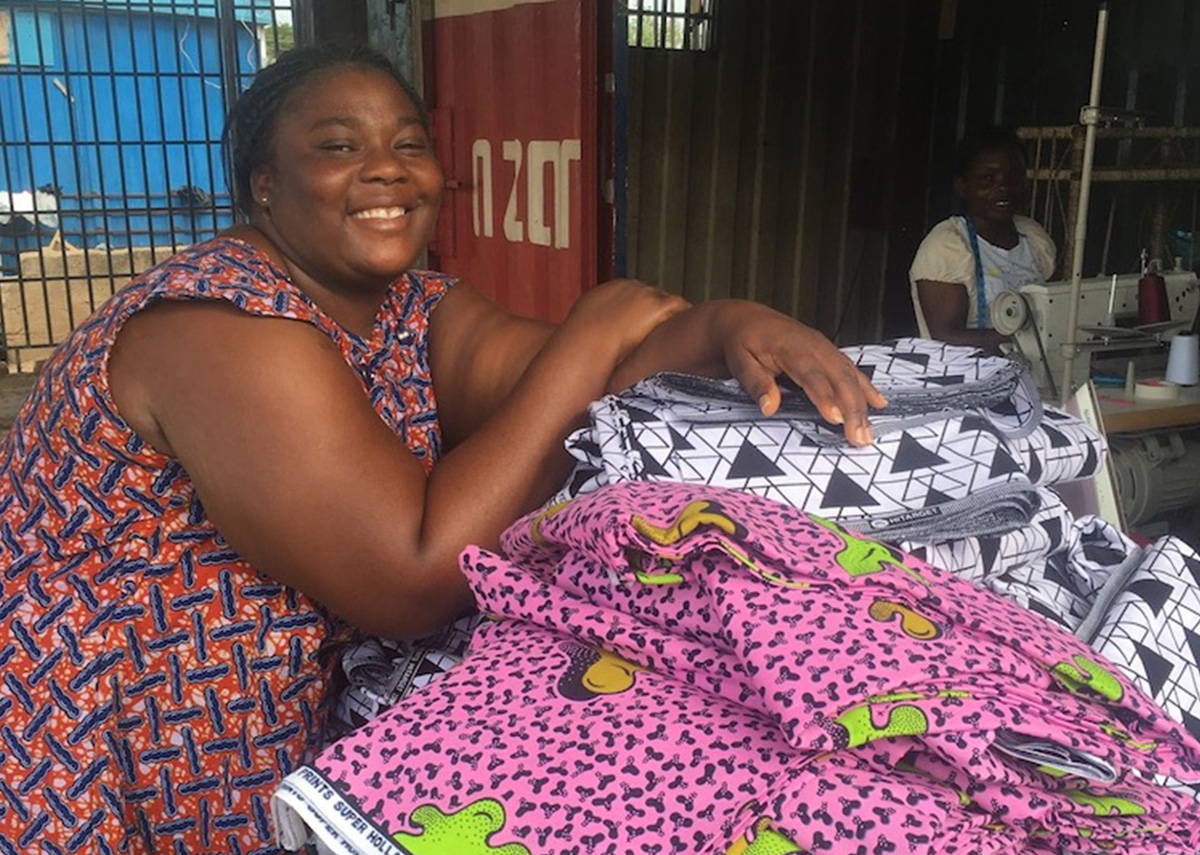 Mary
Production Assistant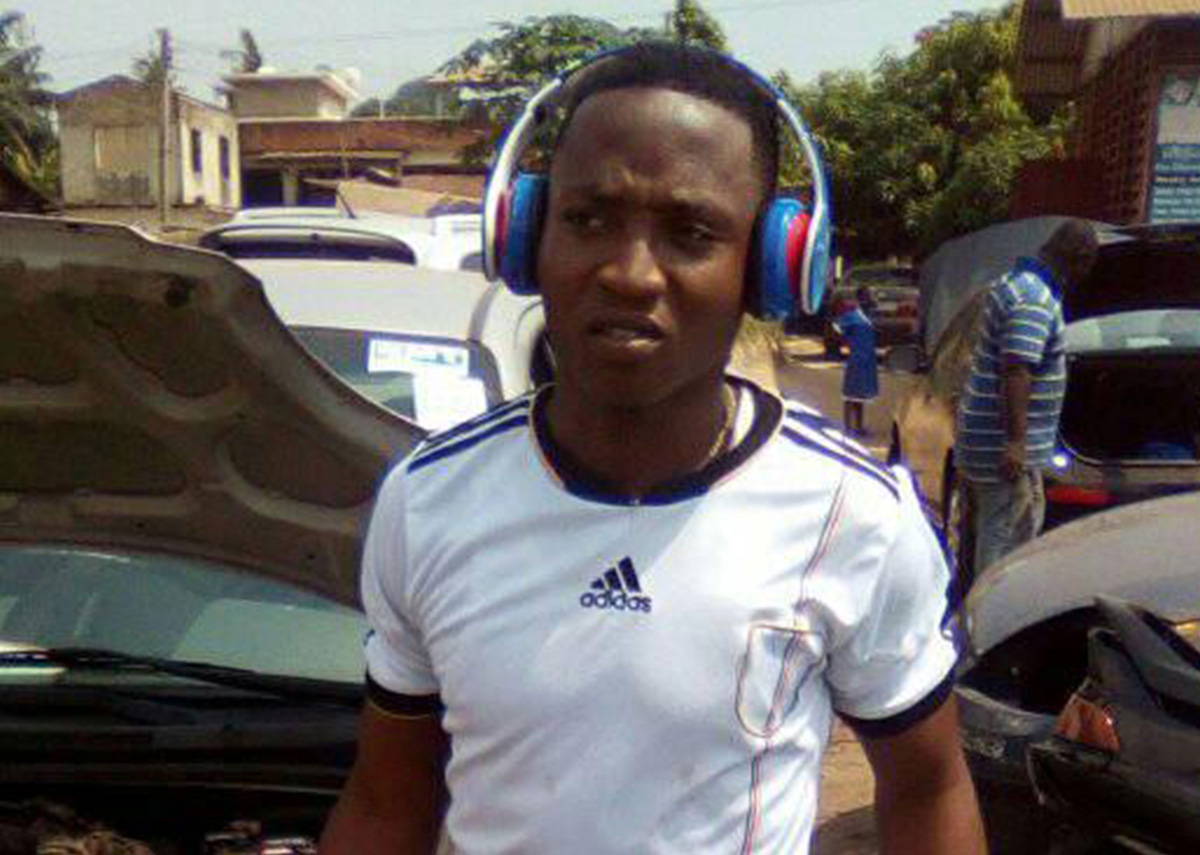 Kennedy Costa
Driver and carrier of heavy things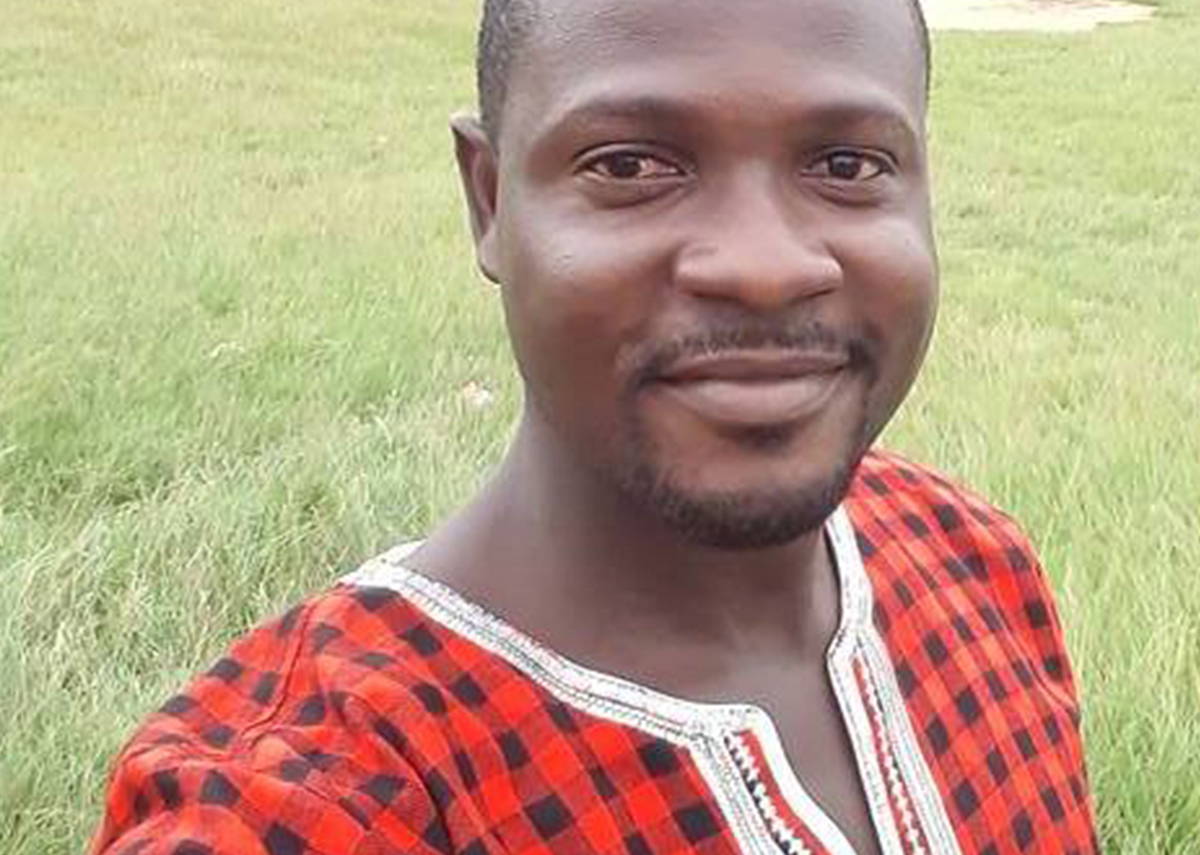 Joseph Quaye Amoo
Monitoring and Evaluation Officer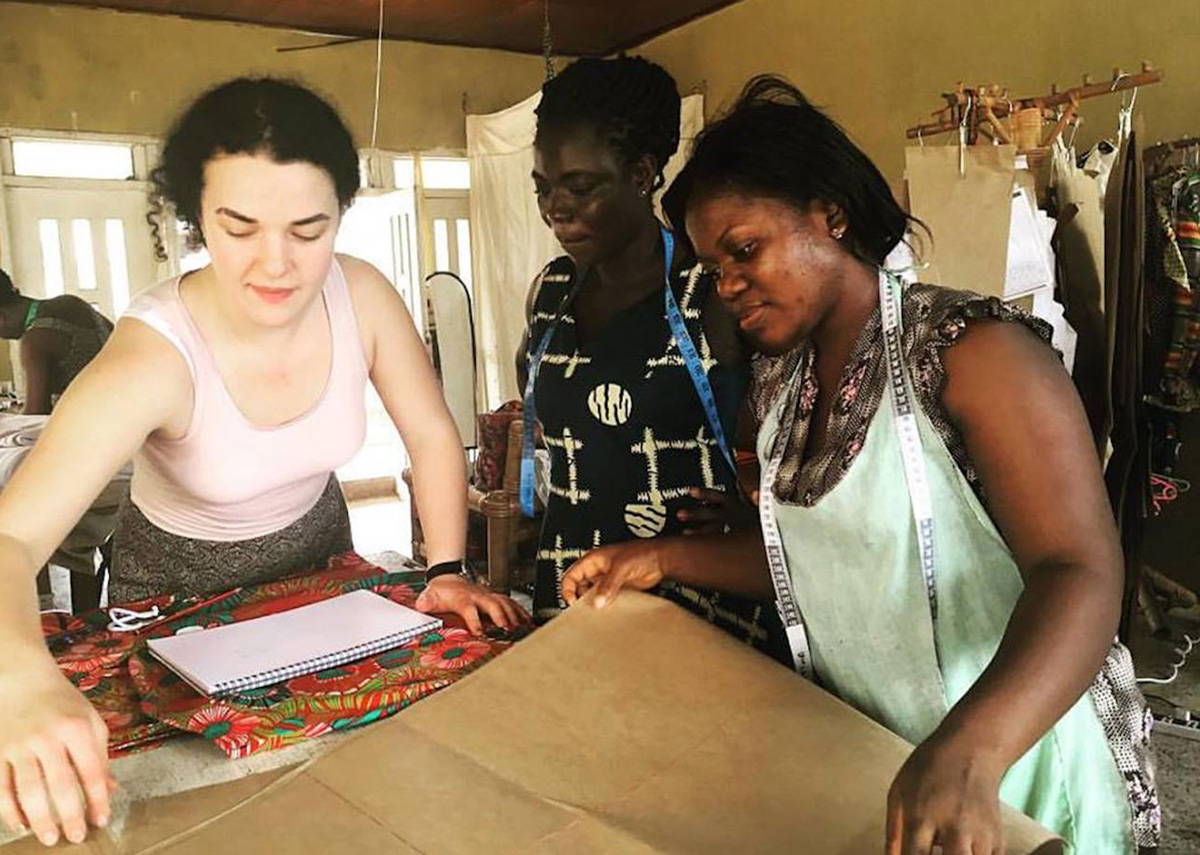 Freya Orford - Dunne
Design Consultant & Capacity Builder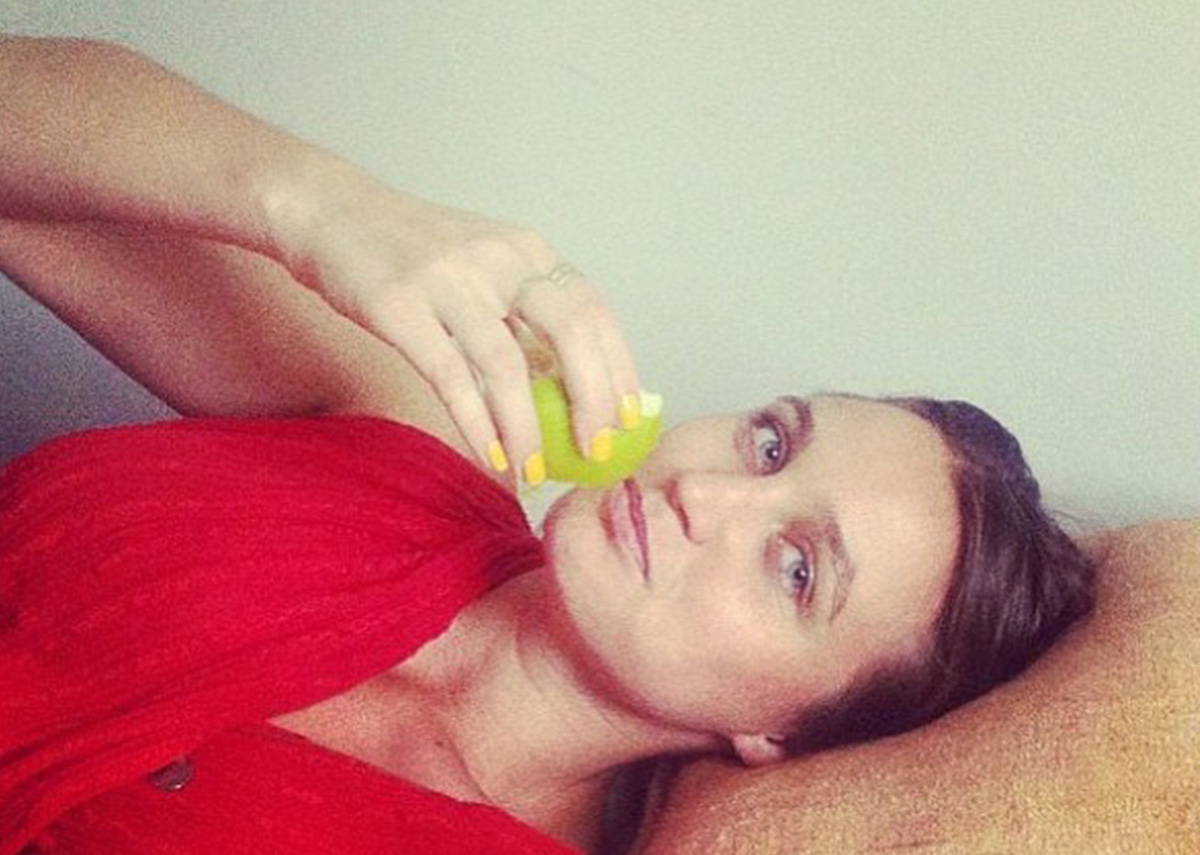 Anna Westcott
Design Consultant & Capacity Builder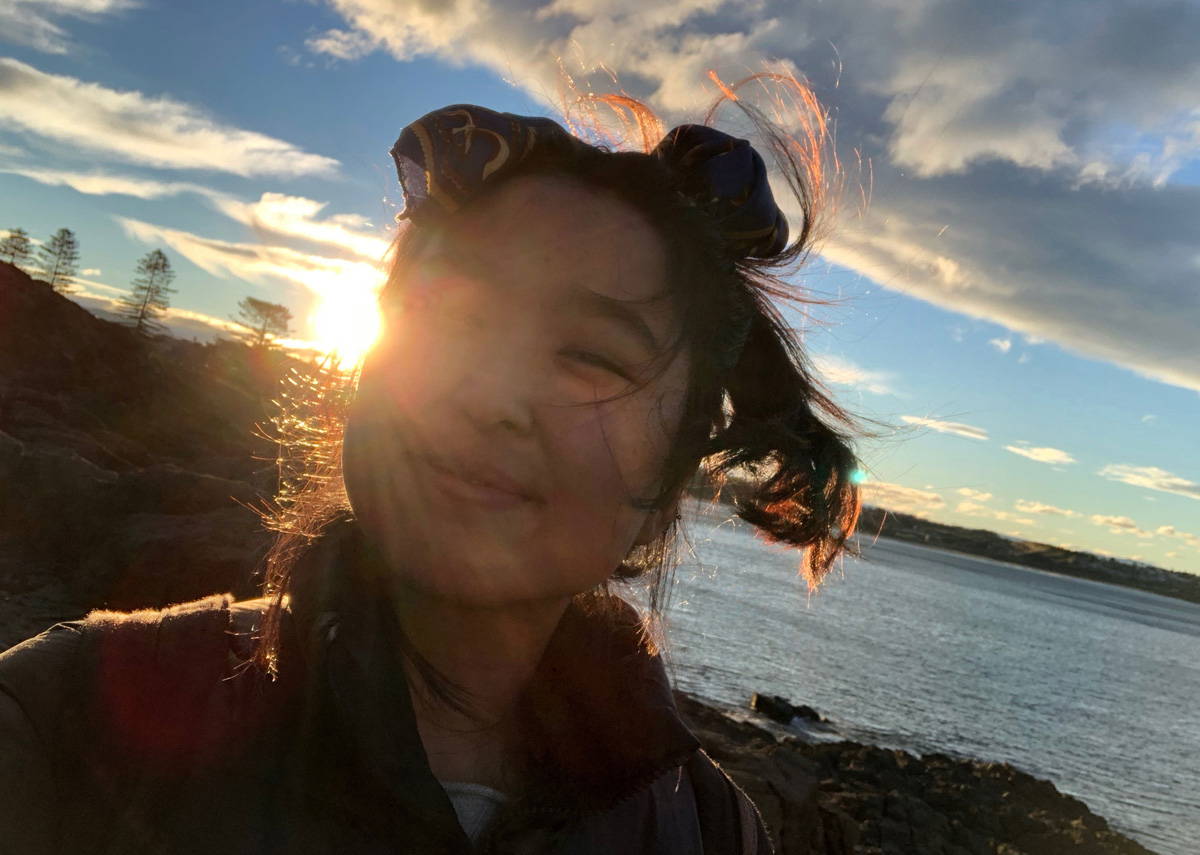 Lisa Liu
Sydney Studio Coordinator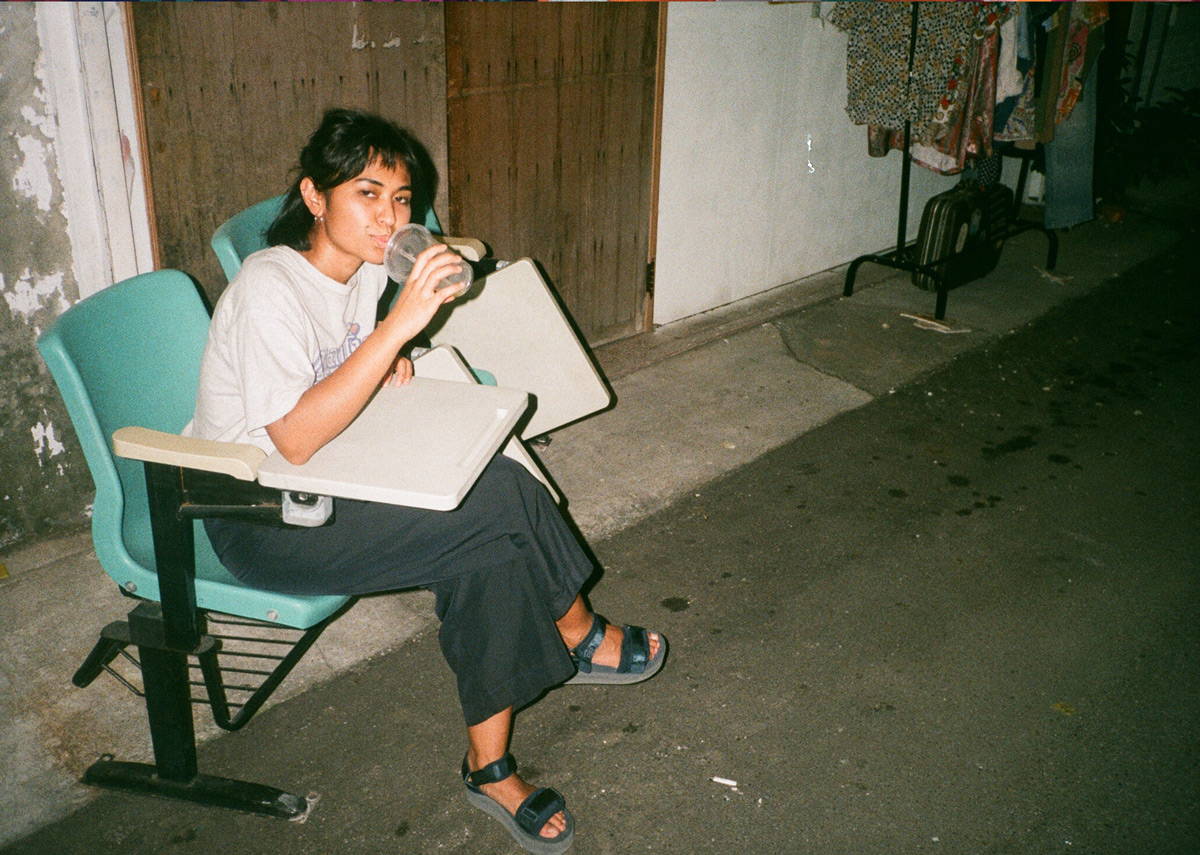 Tessa Curran
Content Producer
Sydney born Anna Robertson, founder of social enterprise YEVU, accidentally fell into the business of fashion. After spending a modest number of years involved in the international development sector, Anna took an Australian Youth Ambassadorship in Ghana in 2012, and that was the beginning of the YEVU story. After spending a year working in Ghana's good governance sector, and learning the lay of the land in her new home of Accra, Anna realised the potential in female led micro enterprise and their desire for more work and more growth.
In Ghana, female led micro enterprises make up the majority of informal sector economic activity all while creating jobs and income for those living on very little, and dealing with a seriously challenging environment. The potential to support female-led small enterprise in the West African country, and celebrate the vibrancy and cultural significance of Ghanaian wax print and textiles was the catalyst for creating YEVU.